Overview
Item Reviewed
Samsung Chromebook Pro – Thanks to Android's help
February 10, 2017
Specifications
* Screen: 2400×1600 LED touch display at 12.3"
* OS: Chrome OS
* CPU: Intel Core M3-6Y30
* RAM: 4GB LPDDR3
* GPU: Intel HD 515 Graphics
* HDD: 32GB eMMC
* Networking: 802.11ac, Bluetooth 4.0
* Ports: Two USB-C, microSD card reader, combo headphone/mic
* Size: 11.06 × 8.72 × 0.5" (280.8 x 221.6 x 13.9 mm)
* Weight: 2.38 pounds
* Battery: 39 Whr
* Other perks: included stylus, 720p webcam, accelerometer, gyroscope
Sources
http://arstechnica.com/
Samsung Chromebook Pro
The market is about to be flooded with a new wave of Chromebooks, all focused on Android apps. Chrome OS and Android were always meant for different devices, but now OEMs are making Chromebooks that can deliver the best of both worlds. Google's Play Store has already come to some older Chromebooks, but Samsung Chromebook Pro and Plus models are the first that explicitly play up their Android compatibility.
These devices follow in the footsteps of the Asus Chromebook Flip, which was the first Chrome OS two-in-one back when the operating system didn't really lend itself to that type of hardware design. Now a convertible design is apt to run Chrome OS and Android apps on the same system, but this union of operating systems isn't perfect yet.
Look and feel
As one of the first Chrome OS devices built with Android apps in mind, Samsung Chromebook Pro is a true two-in-one rather than a laptop. (We were given a pre-production unit to review, but the hardware design isn't going to change by the time it hits shelves.) The device has an aluminum chassis with a satin finish, rounded edges, and curved corners, making it look almost like two tablets joined together via oval-shaped hinges that let the lid flip backwards to lie flat against the bottom of the chassis.
A big reason for the comfortable keyboard deck appears to be the display. Samsung packed a 2400×1600 234 PPI LED touchscreen with a 3:2 aspect ratio onto the Samsung Chromebook Pro; the display makes the entire device taller than most 16:9 laptops and two-in-ones. This means a larger palm rest and more space for your hands to sit. Unfortunately, the screen also includes a huge bottom bezel, made larger by a satin-finished strip of hardware needed so the hinges can attach to the lid. You're left with a bunch of empty space that's a mix of glossy and satin black.The Samsung Chromebook Pro isn't heavy (it weighs just under 2.5 pounds), but it feels sturdy and can support itself in laptop mode while being toted from room to room by its keyboard deck. The chiclet-style keyboard takes up most of that space, but—refreshingly—this doesn't result in a cramped trackpad.
The edges are rounded and thin, and they contain all of the Samsung Chromebook Pro's ports. The left side features a combo headphone and mic jack, one USB Type-C port, and a microSD card reader. The right side has the volume rocker, power button, the other USB Type-C port, and the stylus holder. Both USB Type-C ports support speeds up to 5Gbps, 4K display out (with an optional adaptor), and charging. The pen itself is identical to the stylus used on Samsung's Note pens, but Google explains any EMR pen can work just fine on the touch display. The stylus hides completely when in its holster, the end lying flush to the notebook's edge hardware; to retrieve it, you pop it out with a push.
The only things to note on the bottom of the Samsung  Chromebook Pro are the speaker grills, which are positioned toward the front of the keyboard deck near the corners. This placement doesn't lend itself to perfect sound—when sitting on a table, you'll hear everything clearly, but when placed on your lap or another soft surface, sound gets muffled easily.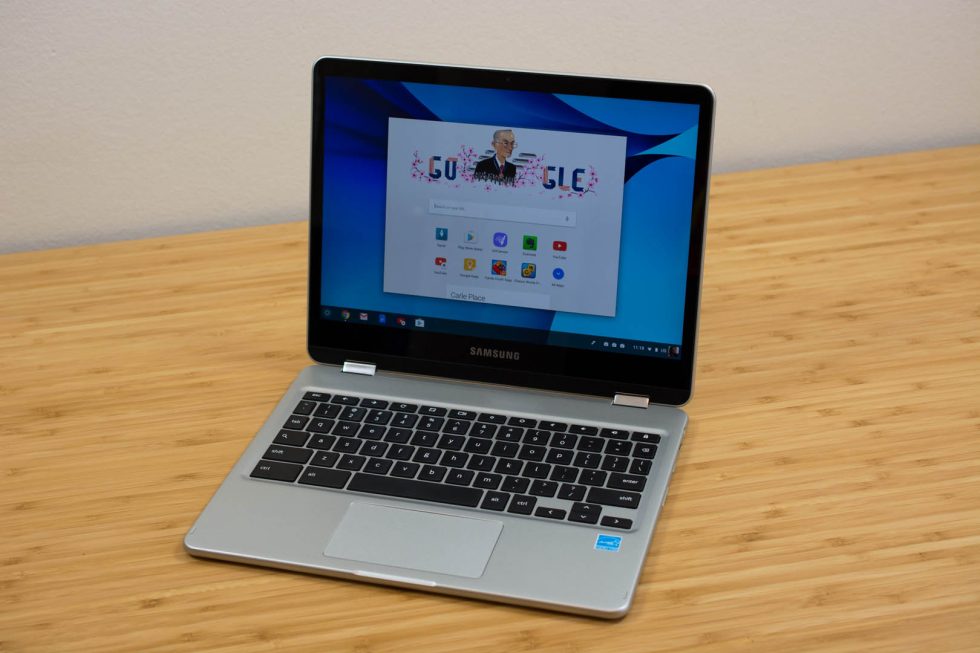 Keyboard, trackpad, and stylus
The keyboard of the Samsung  Chromebook Pro is comfortable, and the keys have decent travel. I only felt cramped by the keys on the left and right sides of the keyboard, as they are the keys that have been shrunk the most to fit onto the smaller chassis. The keyboard is mostly normal (no missing Shift key to mess with your brain), but as with most Chromebooks, the Caps Lock button has been replaced with Google's search button (you can set it to work like a Caps Lock key in the settings if you want).
Samsung's included stylus is basically an S-Pen, even if the company won't refer to it as such. It's shorter than a normal stylus (and smaller than a real pen), proving the company could have just plucked some extra S-Pens from its inventory and stuck them into these Chromebooks. But unlike other smart pens, this one doesn't need to be charged, and it will be harder to lose since it slides into the Chromebook just like the S-Pen slides into the Galaxy Note devices.
The software that controls the relationship between this stylus and the Chromebook's display is different from that on the S-Pen and the Note devices. Samsung explained that it spent time refining the friction between the pressure-sensitive pen tip and the glass display to create a more realistic-feeling writing experience. The system also uses machine learning so that the display can predict where the pen will land next once you've started writing. This should reduce latency and make the digital writing experience more like writing on traditional paper.
The difference made by this technology is subtle but noticeable. The experience writing on the display with the stylus doesn't feel exactly like writing with pen on paper, but it is a more fluid experience than other systems I've used. The latency is reduced slightly, so your strokes will appear on the display almost as soon as you put the stylus to the glass—but there's maybe a millisecond of lag time. That delay can also change depending on the note-taking program you're using, but that is likely not due to the machine itself. For example, latency was similar when I took handwritten notes in both ArtCanvas and another Android app called Squid, but in the Android app version of Evernote (the Chrome Web Store has its own version), there was noticeable lag. I believe this was due to the app's inability to fully adjust to being opened inside Chrome OS, as it would randomly flip the window's perspective to portrait even when I was in landscape, and it performed a bit slower than other apps in general.
The stylus' pressure sensitivity is great for digital artwork, and apps like ArtCanvas make the Samsung Chromebook Pro feel similar to a Surface Pro. However, I was disappointed that the device couldn't totally differentiate between my hand and the pen tip. Often the side of my hand would rest on the glass when drawing, and I'd end up with an ink spot on my digital canvas.
You also can't input handwriting into text boxes, including the Google search bar, using the pen. You can use the pen in place of your finger to tap on the digital keyboard, but you won't be able to write words on the display and have them appear as text in browser text boxes.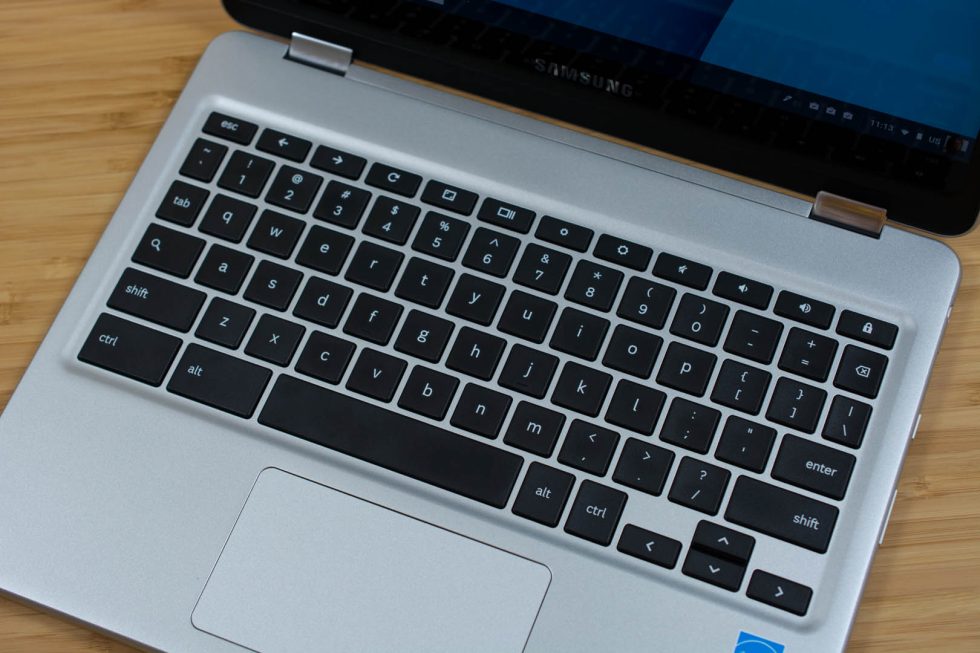 Overall, the stylus experience is good even if the pen is shorter than most. As with all digital pens, those who will get the most use of out them are artists and obsessive note-takers. But Samsung and Google did add some extra features to encourage everyone to try the stylus. When you pop the stylus out of its holster, a dedicated menu pops up near the bottom-right side of the display. With it, you can change the input mode of the stylus so that it becomes a capture tool that will save a region of screen on the display, a laser pointer that will produce a small red dot that follows the pen tip around on the display, and a magnifying glass that enlarges any part of the display you tap.
That menu also lets you create a new note quickly in Google Keep, but I wish you could change the default location of those notes. I don't use Google Keep, but of course Google wants you to use its services by default and will put shortcuts in place to make that happen.
Chrome OS with Android apps
Let's talk about Chrome OS before we dive into the Android app experience on Samsung  Chromebook Pro. Google's browser-based operating system hasn't changed dramatically, but it does get updated frequently with bug fixes and small improvements. Samsung's Chromebook Pro is still most useful when you're connected to the Internet and have access to all of the programs on both the Chrome Web Store and the Play Store. Google has been gradually making its apps better suited for offline mode, and some third-party apps do offer offline capabilities, like Netflix letting you download some movies and TV episodes. However, keep in mind that Chromebooks don't have a lot of storage, and Samsung's Pro is no exception with its 32GB of eMMC storage. You likely won't be able to download all the seasons of Friends to binge-watch at your discretion.
Our Samsung Chromebook Pro is running the M56 beta of Chrome OS with the Play Store, but by the time the device is available in April (the Plus is already available to order), the OS should be out of beta. One of the biggest problems to date with Android apps on Chromebooks is that they don't always work great without a touchscreen. There are still only a handful of Chromebooks available that have touchscreens, but we can expect to see more of them, like Samsung's Plus and Pro, come out in the future. With that hardware feature, you'll at least be able to control Android apps by tapping, just as you would on a smartphone.
With Android integration, most of the Play Store is now at your disposal on Chrome OS. I downloaded a bunch of my favorite and most used Android apps (including Evernote, Google Maps, and Spotify), along with a few games. Opening an Android app brings up its own contained window, which is different from most of the Chrome Web Store apps that live in browser tabs. (Some Chrome Web Store apps have started making their programs run in individual windows, and that experience makes it feel more like you're using a traditional app than just another Web program.)
I was able to do most of my daily work on the Samsung  Chromebook Pro without major problems. It was almost refreshing to rely on a Web-based system because the Chromebook Pro performed faster than my MacBook Air. At one time I had a number of Android apps open, including Spotify playing in the background, while working in Chrome with between seven and 10 tabs open at once. The system didn't slow down much, although the switch between Chrome and any of the Android apps took a few seconds.
I also enjoyed switching quickly between laptop, tent, and tablet mode depending on what app I was using. For example, it's better to have access to the keyboard and trackpad while in Evernote, but I much prefer using taps and pinch-to-zoom gestures in Google Maps with the device in tablet mode. I was lucky that most of the Android apps I'd use every day worked well while expanded to full-screen, and only a few had problems shifting between position modes.
But just because Android apps can run on Chrome OS doesn't mean they all run well. There were a couple of occasions when an app I opened simply shut down on me, and even more occasions when the app wouldn't configure properly to my device. For example, the Evernote Android app often forced me into portrait mode when I wanted to compose a note with the stylus. (This happened only when I expanded the app window to fit the entire screen, rather than using a smaller, contained square on my desktop.) Reddit's Android app was another offender—it always forced my device into portrait mode, no matter if it filled the screen or if it was a smaller window. But at least both Evernote and Reddit can fill the screen; other Android apps don't support full-screen mode yet, which reflects the ecosystem's poor-to-nonexistent support for tablets.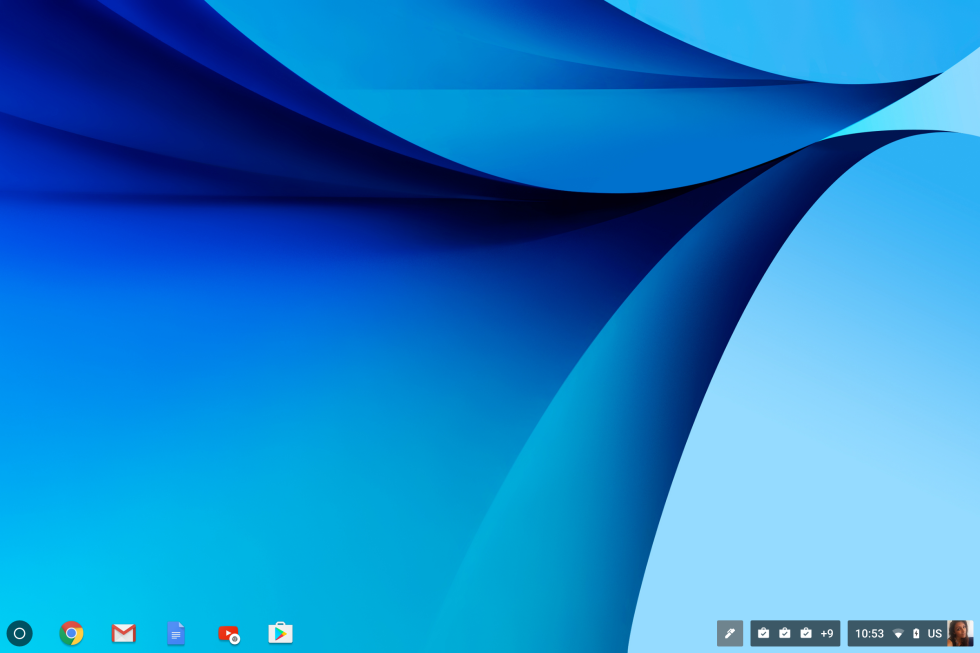 Another side effect of the Chrome OS-Android marriage is that there are many ways to access the same program—something that could be good or bad. Using Evernote again as an example, you can access Evernote three ways on Chrome OS: through its Chrome Web Store app, its Android app, or its own website. For some, that might provide more flexibility, allowing you to switch between browser and contained apps whenever you please. But I found it overwhelming and a tad confusing. In almost every scenario, the best way for me to access Evernote is through its own website in a browser tab because it was the option with the fewest complications and compromises.
There are a few aspects of Android apps you should keep in mind before trying to use them on a Chromebook. First, some apps like WhatsApp require a phone number or SMS-ready number to work, while others like Facebook Messenger work just fine without one. Second, any app that relies on GPS may not work properly since Chromebooks don't have GPS chips in them. (However, I was able to download Google Maps, and the Chromebook was able to figure out my approximate location using Wi-Fi access point location services.) Third, Chromebooks don't have rear cameras like smartphones do, so you won't be able to fully use apps like Snapchat and Instagram. Sure, you could try to take photos using the 720p webcam at the top of the display, but it's definitely not the same experience as using a high-res smartphone camera.
Performance
The main difference between Samsung Chromebook Pro and the Plus that we reviewed is its processor. The Plus has a lower-power ARM hexa-core OP1 CPU, while the Pro has Intel's Core M3-6Y30 processor. Most of our general CPU and GPU benchmark tests don't run on Chrome OS, but we did run a couple of browser-based tests to assess some areas of its performance.
We were able to download the Android app versions of Geekbench 3 and GFXBench GL and run those tests on the Chromebook Pro. Keep in mind that those apps are meant to assess Android smartphone performance, not Chrome OS performance. Android's containerization could slow things down on Chrome OS, but judging by our results, it hasn't slowed down the Chromebook Pro enough to result in weak benchmark performance (compared to systems running similar CPUs).
Battery life
Samsung estimates the Chromebook Pro can last nine hours on a single charge of its 37Whr battery. That proved to be true in our testing; the Chromebook Pro lasted about 10 hours on our default browsing test and about five hours in our heavier WebGL test. It's not the best battery life of any Chromebook, but it's only beat by the much more expensive Chromebook Pixel 2 and the Dell Chromebook 13, which has a 67Whr battery inside.
The Samsung  Chromebook Pro has good battery life and could certainly last a day at a typical nine-to-five job. However, you might want to keep it close to a power source once you're a few hours into a Netflix binge.
A step in the right direction
With the hardware, Samsung definitely stepped up its game with the Chromebook Pro. A solid design proves that Chromebooks don't have to be flimsy devices, even if they have small price tags and run a simpler operating system. While Chrome OS isn't the best OS for touchscreens, you definitely need a touchscreen to use Android apps, so we hope most Chromebooks going forward will include them. The stylus is a nice touch as well, especially since it hides neatly in the body of the device, and it has a battery life suited for all-day use.
Now to Android apps—this is the fullest Play Store experience we've had on a Chromebook thus far, and our experience was mostly good. One of the biggest problems with Chrome OS has been that its Chrome Web Store didn't have many of the programs we all love and use regularly. But now with the Play Store, you'll have access to a majority of those programs in the form of Android apps. We experienced some lag switching between Chrome and Android apps, stylus input was inconsistent, and Android's general lack of support for tablets and other large-screened devices is still a problem. But those apps still work properly for the most part, and the Play Store does a solid job filling in Chrome OS' app gap.
If I were to purchase the Samsung Chromebook Pro or any Chromebook going forward, I would download all the Android apps of every program I use regularly and abandon the Chrome Web Store entirely—often, the Android app experience is even preferable to using these services' Web apps. Not only would those apps for Slack, Evernote, and others let me complete a full day's worth of work, but I would also be able to use the same device to wind down at the end of the day with a Spotify session or a few zoned-out hours with Netflix.
Positives
* Solid design.
* Included stylus for easy handwritten notes and artwork.
* Two USB Type-C ports.
* Most Android apps are much better to use than any Chrome Web Store apps.
* Good performance.
* Good battery life.
Negatives
* Display sometimes mistakes small hand pressure for stylus pressure.
* Some Android apps don't translate properly in perspective and size when opened on Chrome OS.
* Apps with specific hardware requirements (like GPS, rear cameras, etc) won't work exactly as they would on a smartphone.
* You may have duplicate Chrome and Android apps cluttering your launcher.
* $549 may feel high for some who aren't willing to spend more than $300 for a Chromebook.